Soon after the release of his album, Birdie, Jake Ewald sat down with us to discuss his take on books, music, and the in-betweens of it all.
Jake Ewald founded Slaughter Beach, Dog in 2015 [1], but it wasn't until 2016 that the band took to the roads (and sky) to play shows throughout North America and the UK. After his former band, Modern Baseball, was put on hold, Ewald stepped away from autobiographical forms of writing and began to place himself in others' shoes [2]. By diving into fictitious story-telling, Ewald has produced thought-provoking and insightful pieces of art in the form of music.
He's a dreamboat of a musician and an overall great person to speak with, and his charisma spills through his simple yet delightful answers. Slaughter Beach, Dog has recently repressed their LP, Motorcycle.JPG, on both blue and bone white 12" vinyl which could be found on lameorecords.com along with other merchandise and, as always pleasing, more vinyl. 
Q: Cats or Dogs?
Jake: I don't really like either…I don't really like animals, but I have a cat…So, cats.
Interviewer 1: Well, I guess this interview is over.
Jake: Lets wrap it up!
Followed by unisonant laughter.
Q: Why "Slaughter Beach, Dog"? Can you give us some background on the name?
Jake: There's, uh, there's no good story. It's not even—there's a place called Slaughter Beach in Delaware, and (I) googled the band name—well made the bandcamp page, made the email address, a year later I started writing songs, googled the band—there's another band called "Slaughter Beach", so I put "Dog" on the end.
Q: Is "Dog" a reference to how someone (else) would say "homie"?
Jake: Yes, one-hundred percent.
Q: With Birdie just having been released, would you say there's any song that means the most to you and why?
Jake: Probably, a big one is, "Gold and Green," just cause a lot of that is really personal. And also…yeah that's probably the biggest one.
(The interviewers chose not to push for more detail out of respect for what he was willing to share).
Q: What do you consider is the main difference between writing for Slaughter Beach, Dog and MoBo (Jake's former band, Modern Baseball)? (Are) there any differences in your writing style and the processes?
Jake: There are differences, but I don't think they're intentional. I just think it's kind of like…If I was writing these songs for Modern Baseball they would kind of be the same it's just kind of me changing a little bit as a song writer. So…yeah.
Q: Are there any stand out bands that originally inspired you to write/create songs?
Jake: The first band I really got into, like song writing wise, was Say Anything, and then the next big like curve for me was John K. Samson and The Weakerthans, and like Pedro The Lion and that kind of stuff. And then…the next big curve was like…Elliott Smith. So those were like the three forks in the road.
Q: What about books for films?
Jake: I'm not really a movie guy…There are certain movies that I really love, but I don't ever watch movies ever, but book wise…I don't know if there're any particular books…
Q: or writers maybe?
Jake: Writers—Juno Diaz, George Saunders, Zadie Smith, Raymond Carver…Those are my big guns.
From here, we tangent for a brief moment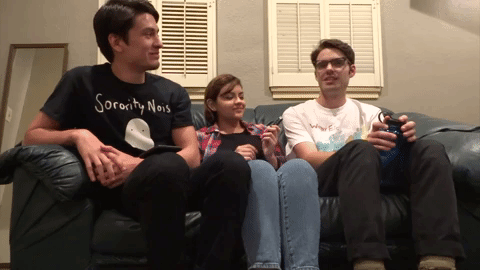 Interviewer 1: I'm currently reading White Teeth by Zadie Smith…
Jake: Nice, White Teeth is the only one that I didn't really love.
Interviewer 1: To be honest, it's for a class.
Jake: Oh, Do you like it at all?
Interviewer 1: So far it's okay, (but) I'm not too far in yet.
Jake: Oh, okay. She (Zadie Smith) has another one called Northwest that's still kind of…quirky sometimes like White Teeth is but it's not as totally out there.
Interviewer 1: I'll check that one out next time
Jake: Yeah, I love Northwest.
Q: What's on your current playlist?
Jake: I haven't really been listening to that much music because Ian (bassist) has been driving, and when he drives he picks the music. So Ian's playlist is currently old Green Day, and Van Morrison, but—what do I like now—I just checked out that new Palehound record which I think is pretty cool, and I like the new War on Drugs record.
Q: So you started making music when you were in college, right?
Jake: Well I was playing music before that, but college is when I actually started playing seriously in a band.
Q: Do you have any advice for student musicians?
Jake: You have a lot more energy now than you ever will in the future, so take advantage of it while you have it, and just like…go to class, do all your homework, but also like…play guitar solos and play shows and write songs and just don't sleep and do as much as you can. 'Cause you won't wanna do it when you get older.
(Here's a question straight out of left field)
Q: What would you name your boat if you had one?
Jake: That's actually…a dangerous question (be)cause if you change the name of your boat it's bad luck, so you have to like the first name. I would name the boat—I had a good idea for a band name the other day and I'm gonna name the boat it instead—and it's gonna be, "The Devil and Drew Barrymore".
(What a great name)
Q: So—final question—pineapples on pizza, yes or no?
Jake: Yes, a lot more when I was younger, but yeah…One that I really like but can't really eat because I get heart burn really easily is pineapple and jalapeños.
Jake Ewald has no current tour dates for the remainder of 2018, but the prominent band is sure to hit the road in 2019. You can check him out on Spotify, or purchase one of his vinyls on the lame-o records website.
Thanks again, Jake, for sitting in and chatting.
(1) Lame-O Records